Who are the people behind the "Spiritual World"?
Welcome to our site !
Introductio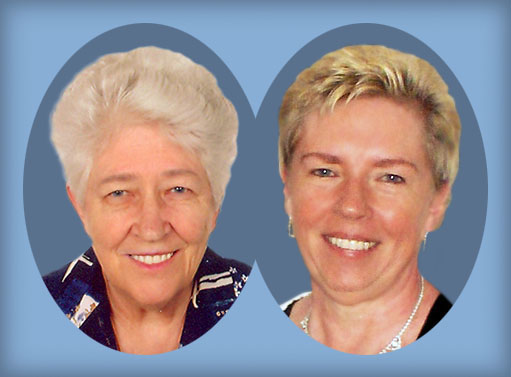 n:
We are Mary and Tonny and we are mother and daughter. Right now, in 2015, we have been working together in spiritual matters and healing for almost forty years. Everything we do is based on our strong belief that "life after death" exists.
That world, or if you like: that state of consciousness is very real to us.
However, we absolutely do not try or wish to convince others to believe the same.
During the past thirty-eight years we responded to  thousands of requests for help on numerous health problems, as well as other types of problems.
From the very moment someone contacts us – whether it is during a session, counseling on life and death or other matters – we surrender to a "higher guidance" and immediately a connection is made between ourselves and the caller. At all times, our work is a harmonious combination of spiritual guidance, intuition and, last but not least, common sense.
Over time, people have often asked us to write a book about the very clear and practical lessons we had received from the spiritual world and about our personal experience with spirituality. 
In 2007 we decided to take the next step and, using our given spiritual names – Ronley and Fatak, we wrote a book, entitled "The Other World … and we".        
These few words "The Other World … and we" reveal a lot about the book's content. The book speaks about the way we were contacted by "The Other World" and about our first steps on the spiritual path. In the first edition, 500 copies of the book were printed and 450 copies have been sold. Please note that the book until now is only available in Dutch. If in the near future we find that there's sufficient interest for a translation of the book in English , we will definitely consider doing that.
Much of our website is obviously in Dutch, but we want to share with more people some of the spiritual lessons we have learned over the years. That is why we have translated part of the website in German and now also a part in English. What is included in the English version of the website contains a small impression of the work we do. In Europe we offer services that we cannot provide elsewhere in the world, because those services would require our physical presence. Therefore we left out that part of the website.
For more information about our work or for an appointment (via Skype), you can send us an email.   
You can also contact us by phone, but please keep in mind the different time zones. The time to call us is on working days between 17.00h – 19.00h, local time, Maastricht, the Netherlands. Tel.: + 31 43 3437008.
However, we think the telephone is not always the most practical way to contact us from countries with a very different time zone. Therefore we recommend you contact us via Skype. Via email you can send us an invitation to add us to Skype.   
Sessions via Skype take place on Monday, Tuesday, Wednesday and Thursday around 18.00h or 19.00h, local time Maastricht, the Netherlands.
For information related to payment, please send us an email or contact us by telephone. And please: never hesitate to contact us. Money is not, nor ever was, the reason why we help others! Money should never be an obstacle to get help. Spiritual lessons and / or spiritual help should always be accessible to everyone!