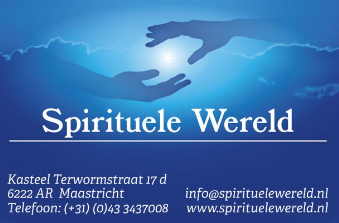 Nederlands
Voor meer informatie of voor het maken van een afspraak kunt u bellen op werkdagen tussen 17.00 en 19.00 uur.
Afspraken vinden plaats op maandag, dinsdag, woensdag of donderdag (ochtend en/of middag).
N.B.
Het kan zijn dat u ons belt op de juiste dag/tijd en dat u desondanks geen verbinding met ons krijgt. De aard van ons werk brengt met zich mee dat gesprekken wel eens kunnen uitlopen en soms worden we onverwacht naar een spoedgeval geroepen. Wij vertrouwen op uw begrip hiervoor en vragen u het op een later tijdstip nog eens te proberen. U kunt ons ook een e-mail sturen met uw naam en telefoonnummer. Dan bellen we u terug.

Deutsch
Für mehr Information oder für einen Termin, bitte anrufen an Wochentagen zwischen 17.00 und 19.00 Uhr.
Termine sind am Montag, Dienstag, Mittwoch oder Donnerstag (am Morgen und/oder am Nachtmittag).
Bitte beachten:
Es ist möglich, dass Sie zur richtigen Zeit anrufen, trotzdem aber keine Verbindung zu uns bekommen. Bei unserer Arbeit kann es vorkommen, dass Gespräche etwas länger dauern als wir geplant hatten oder manchmal werden wir  zu einem Notfall gebeten. Wir vertrauen auf Ihr Verständnis und wir bitten Sie es später noch einmal zu versuchen. 
Sie können uns auch ein E-Mail senden mit ihrem Namen und ihrer Telefonnummer. Wir rufen Sie später an.

English
To make an appointment, you can call us on working days between the hours of 17.00h and 19.00h.
If you live in the Netherlands, an appointment will take place on Monday, Tuesday, Wednesday or Thursday (morning and/or afternoon).
If you live too far from Maastricht (outside the Netherlands) you can request an appointment on Skype.
For more information or for an appointment, please send us an invitation via email to add us to Skype. 
Sessions via Skype take place on Monday, Tuesday, Wednesday and Thursday around 18.00h or 19.00h, local time Maastricht, the Netherlands.
You can also contact us by phone, but please keep in mind the different time zones. The time to call us is on working days between 17.00h – 19.00h, local time, Maastricht, the Netherlands. Tel.: + 31 43 3437008.
Please note:
It is possible that you call us on the right day/time and yet you are not able to reach us. Our work sometimes requires sessions taking longer than planned and sometimes we are called to an emergency. We rely on your understanding and ask that you try again later. Or you can send us an email with your name and telephone number and we will call you back later.